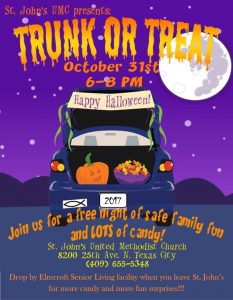 Trunk or Treat
Tuesday, Oct. 31st from 6:00-8:00.
EVERYONE IS INVITED!
Families…Friends…Neighbors…Strangers…EVERYONE!
This is a great family event and a fun and safe alternative to trick or treating and we want to be a blessing to our community!
Lots of candy and fun!!!
Drop by Elmcroft Senior Living facility when you leave St. John's for more candy and more fun surprises!!!