When:
April 29, 2018 @ 10:30 AM – 11:30 AM
2018-04-29T10:30:00-05:00
2018-04-29T11:30:00-05:00
Where:
St. John's UMC
8200 25th Ave N
Texas City, TX 77591
USA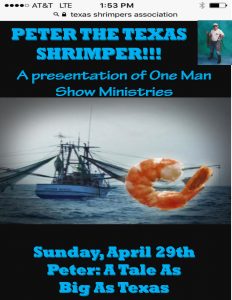 PETER THE TEXAS SHRIMPER!!!
A presentation of One Man Show Ministries
United Methodist Evangelist Mark Winter
of One Man Show Ministries will be at
St. John's UMC on Sunday, April 29th 
to present "Peter: A Tale As Big As Texas"
a humorous monologue with a message.
Based on a scrip t by Christian actor and comedian,
Jerry Cohagan, Mark will portray Peter
as a boisterous Texas shrimper.
This one-man drama will be presented
at 10:30 AM in the Sanctuary. 
Please invite a friend on this special day!
THERE WILL BE ONLY ONE SERVICE ON 
SUNDAY, APRIL 29TH AT 10:30 AM
Pot Luck lunch to follow the performance.
Potluck Lunch 11:30 am – 12:30 pm.
Everyone please bring a dish according to the letter in your last name:
A-H Last Names – Meat Dish
I-Q Last Names – Salad & Dessert
R-Z Last Names – Vegetable side dish & Dessert.