When:
March 25, 2018 @ 11:00 AM – 12:00 PM
2018-03-25T11:00:00-05:00
2018-03-25T12:00:00-05:00
Where:
St. John's UMC
8200 25th Ave N
Texas City, TX 77591
USA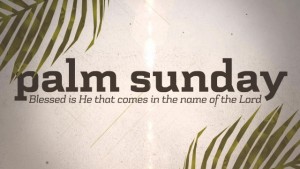 Palm Sunday
Jesus retreated with his disciples to an "upper room" for the Passover seder meal. He told them that he was about to die. Later that night he was arrested, leading to a rapid chain of events that resulted in his being executed by the Roman authorities mid-day Friday.
This Sunday, after celebrating with the palms, we will turn to the events of the latter part of the week.  We hope you'll return Thursday at 7:00 for a commemoration of Maundy Thursday, the Last Supper. We will share in Holy Communion and our Chancel Choir will present our Holy Week Cantata. And then Good Friday we will have our experiential service hosted by our Praise Team & Foundry Youth. It will be a time of reflection, meditation and worship. All of Holy Week our sanctuary will be open for prayer and meditation so come anytime during office hours and stay as long as you desire.
Please take advantage of these opportunities. Through them, we show our love and gratitude to God for the amazing gift of Christ and his sacrificial love…..and through these opportunities we grow in our own faith and are more fully filled with the joy and power of Easter when it arrives.
See You Sunday on the Journey!