When:
January 1, 2017 @ 10:30 AM – 11:30 AM
2017-01-01T10:30:00-06:00
2017-01-01T11:30:00-06:00
Where:
St. John's UMC
8200 25th Ave N
Texas City, TX 77591
USA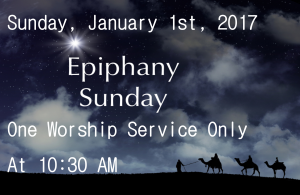 Start your New Year off with praise & worship!!!
We hope you will join us for worship on Sunday, January 1st, 2017 at 10:30 a.m.
We will have only one worship service at 10:30 AM.
This New Years Sunday morning service will be in Contemporary format lead by our Praise Team. Please join us.
The Epiphany (Manifestation) of the Lord, an even more ancient celebration among Christians than Christmas, originally focused on the nativity, incarnation, and baptism of Christ. Today we celebrate the coming of the three wise men (magi), who brought gifts to the Christ child. It marks the end of the Christmas Cycle, which began the First Sunday of Advent.
The Epiphany Season includes four to nine Sundays, depending on the date of Easter. The First Sunday focuses on the Baptism of Christ and the Last Sunday on the Transfiguration. The Gospel readings in the lectionary center on stories from the early ministry of Christ.